We put together high-quality and area-specific packages of the components found in our selection, this enables a suitable use for the needs of motorsport practitioners. The packages equipped with original LUMONITEⓇ Slimcore 100 batteries allow maximum luminous flux to be achieved up to 2 hours. The battery-powered package is available with both one and two lights. In addition, a package is available (or purchased as an accessory) with a 12V transformer, which allows the lamp to be powered directly from a 12V system. DX6500, also called LUMONITE Leader created for situations where absolute maximum performance, i.e. maximum light flux, is required.
Note! A high-quality, cast-steel GoPro adapter (and a 360°, GoPro-compatible tripod) is included, which makes it easy to attach the light to, for example, a helmet. The mount can be adjusted both vertically and laterally. Depending on the package, the unit is supplied with 1 or 2 pieces of 50 and 120 cm extension cords, which means that the lamp can be used in, for example, a helmet. Additionally, cable mounts are included for mounting needs based on package. Thanks to the GoPro adapter attached to the light, the light can be attached to any GoPro-compatible mount, so the attachment possibilities are practically unlimited! This unmatched efficiency, complete lighting set offers countless uses, allowing you to enjoy your hobby even after dark!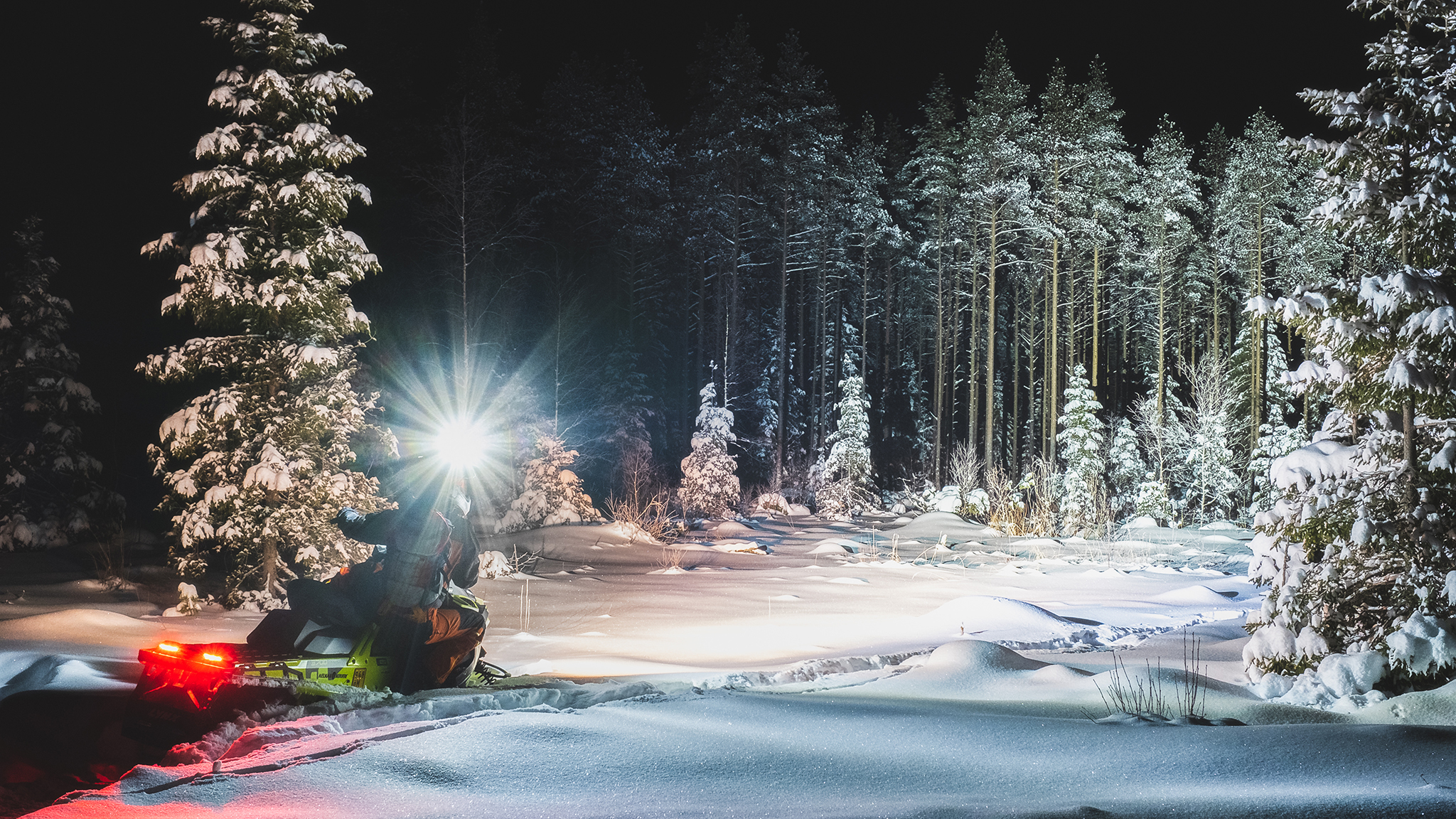 If you also want to be able to use the lamp as a headlamp, we recommend checking out the Lumonite Leader package.
1 lamp incl. 12V transformer, accessory (6838 lumens):
1 lamp incl. battery + GoPro mount (6838 lumens):
2 x Lamp incl. battery + GoPro mount (13676 lumens):
1 x Lamp incl. battery + helmet mount (6838 lumens):
2 x Lamp incl. battery + helmet mount (13676 lumens):
Lumonite DX6500 is designed based on user feedback and manufactured to meet the needs of the most demanding users. The light pattern produced by the DX6500 lamp is very wide, but provides a more brightly lit high beam in the center of the light beam, which extends as far as 388 meters. The light image is wide enough to illuminate the entire field of vision at once, providing a very pleasant user experience.
The starting point for the design of the Lumonite DX6500 has been the highest possible continuous power - and the maximum cooling power required. This has been achieved by making the entire lamp a large cooling element with cooling fins. The body of the lamp is machined from a single piece of T6061 aluminum, which ensures the best possible heat dissipation. In addition, the advanced thermal management electronics constantly monitor the lamp's temperature and keep the light output as high as possible under all conditions.
Technical specification
Brand and model: Lumonite DX6500
Valostore's measured luminous flux: 6838 lm
Valostore's measured range: 388 meters
Battery: Lumonite Slimcore 100, 99.4 Wh / 14.4 V / 6900 mAh
Charging time: approx. 4 hours
Advanced, intelligent heat management electronics
Dimensions and weight of lamp: 63 x 84 x 42 mm / 155 g
Battery dimensions and weight: 169 x 79 x 25 (H/W/D) / 480 g
Protection class:
Manufacturer's reported color temperature: 5500 K

Measured color temperature: 5234K

Warranty: Lighting part 60 months / Charger 24 months / Battery 12 months
Importer: Handshake Finland / Lumonite.com
Performance (ANSI/FL1) (One lamp)
Max: 6500+ lm* / 388 m / 2:00 h (*Laboratory measured maximum output: 6838 lm)
High: 3100 lm / 260 m / 4:40 h
Medium: 1000 lm / 150 m / 15:50 h
Low: 270 lm / 80 m / 59:00 h
Emergency light - does not turn off suddenly

An advanced feature of the Lumonite DX6500 lamp is that it does not allow you to drain the battery at full power, although it is possible. When the battery starts to die, full power would only be available for a short time, but with lower power you get significantly longer burn time. Even after the official burning time for maximum power, the lamp continues to shine for more than half an hour with a lower power of about 250 lumens! So this lamp will not leave you suddenly in the dark!
Quick guide
Lumonite DX series lamps are easy to use. The lamp is switched on by using the switch on the top of the lamp. Then a button press switches between the effect modes in the order low-med-high. The maximum mode is activated with a simple double click. Double-click again to return to the previous effect mode.
Note! The transformer package is delivered with an ON/OFF switch . When connected to a lamp, the transformer consumes some current even when the lamp is off, so during long storage it can drain the vehicle's battery if the transformer is connected directly to the battery. Therefore, you should install a circuit breaker in between. The best solution is, of course, to connect the transformer directly to e.g. the vehicle's fuse box or other place where the current is interrupted when the vehicle is switched off and the battery is not discharged.
User manual in PDF format: Lumonite Leader user manual (opens in new window)