THE WORLD'S MOST EFFICIENT LED HEADLAMP

UPDATED VERSION 2023
6838 LUMEN - 388 METERS
NEUTRAL COLOR TEMPERATURE
The measured luminous flux is now a whopping 6838 lm!
Neutral color temperature of 5234K
Extremely light lamp head (155 g)
Separate battery, long operating time (2-59 h)
Backup light function when the battery starts to run out!
Long range of 388 m!
Very wide light pattern, with diffuse light more than 180°
Illuminates the entire field of vision
IPX6 protection class on the lamp head
Wide range of accessories available
GoPro Compatible Mounting - Unlimited Mounting Possibilities!
60 month warranty!
Note! If you're looking for a slightly less powerful headlamp, check out the LUMONITE Navigator2, luminous flux 3864 lumens.
The Lumonite Leader is the most efficient LED headlamp of all time! It provides a light performance of an unimaginable 6838 lumens and a range of a whopping 388 meters – All in a lamp that weighs only 155 grams. At the time of writing, Leader is the only headlamp in the world that has this maximum ratio between power, weight and physical size.
The goal has been to produce the market's best lamp in its performance class. What Lumonite sought was a light and compact lamp that can deliver a constant light performance of over 6500 lumens for at least two hours. At first it seemed impossible to succeed in manufacturing such an efficient headlamp in that weight and size class, and the journey from drawing to finished product felt almost endless. But 2.5 years later and after countless prototypes and restarts, the goal was finally reached. You can see the end result here - Lumonite presents probably the world's best orientation beam lamp, as one of the developers says this about:
"Our original goal was to produce the world's best LED headlamp. The whole lamp had to go back to the drawing board several times as we worked out how to make the lightest lamp possible, while still delivering the very best performance. Every detail of the lamp has been developed with the idea of producing the world's best headlamp. Now that I hold the finished Lumonite Leader in my hand, I can state that we succeeded in our mission quite well."
- Product development manager Topias Kangas
Lumonite Leader's carefully designed lens provides a combination cone of light that shines both wide and far, evenly distributed over the entire field of vision. In the middle there is a spot with a range of 388 meters, and the wide cone of light all around illuminates the immediate area without any problems. Leader's lamp body can also be attached directly, without any additional fasteners, to the bicycle handlebar. This means that the lamp is well suited even for the most demanding off-road cycling.
Valostore's satisfied customer guarantee - order and test the product in its real area of use. Free return if you are not satisfied!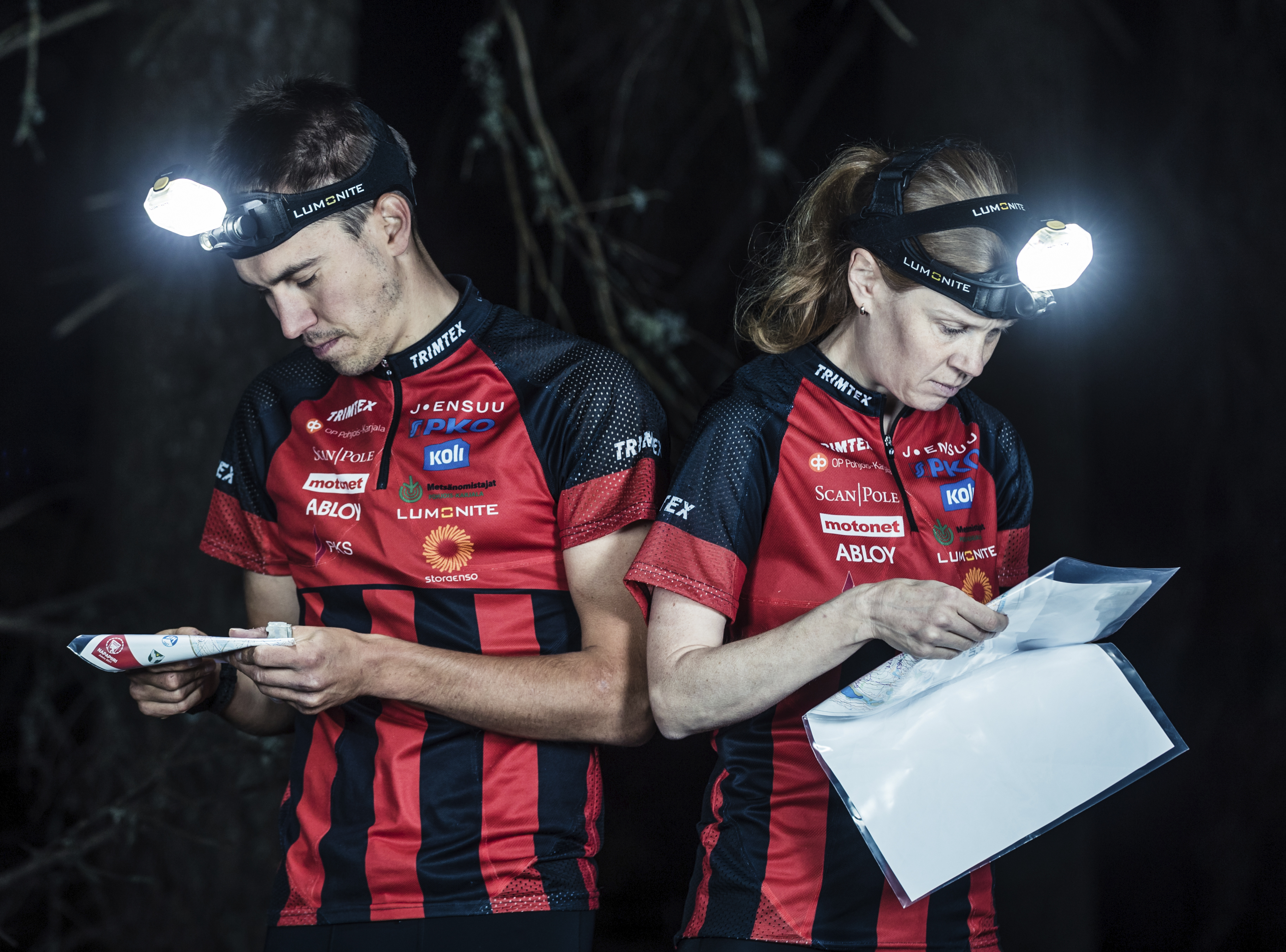 The included power source is a high-performance lithium-ion battery, which is easy to attach to e.g. the belt or bicycle handlebars. The smart power supply does not leave you in the lurch when the battery runs out, but Leader shines with approx. 250 lumens for over an hour before the battery dies.
Contents (Standard Package)
Protective rubber shell for the lamp head
Storage bag
Manual (FI/EN/SE/NO)
Contents (Standard package + Battery harness)
Standard package (see contents above)
Content (Premium Package)
Technical specification
Brand and model: Headlamp LUMONITE® Leader, 6838 lm (2023)
Manufacturer's reported luminous flux: 6500+ lm

Valostore's measured luminous flux: 6838 lm

Manufacturer's reported color temperature: 5500K

Valostore's measured color temperature: 5234K

Range: 388 m
Cone of Light: Combination
Battery: Lumonite Slimcore 100, 99.4 Wh / 14.4 V / 6900 mAh
Charging time: 4 h
Operating modes: 4
Protection class: IPX6
Battery protection class: IPX4
LED: 8x High Power LED
Dimensions: Lamp head 63 x 84 x 42 mm, battery 169 x 79 x 25 mm
Weight: Lamp head 155 g, battery 480 g
Warranty: Lamp head 60 months, charger 24 months, battery 12 months
Performance (ANSI/FL1)
Max: 6500+ lm* / 380 m / 2:00 h (*Laboratory measured maximum performance: 6838 lm)
High: 3100 lm / 260 m / 4:40 h
With: 1000 lm / 150 m / 15:50 h
Low: 270 lm / 80 m / 59:00 h
Emergency light - does not turn off suddenly

Lumonite DX6500's lamp fixture is equipped with an advanced backup light function. Instead of running completely out of battery and turning off suddenly, the light flux is automatically reduced to approx. 250 lumens when only a few percent of the battery remains. This emergency mode gives you more than half an hour of extra light, all so that you are not left alone in the dark.
Quick guide
Lumonite DX series lamps are easy to use. The lamp is switched on by using the switch on the top of the lamp. Then a button press switches between the effect modes in the order low-med-high. The maximum mode is activated with a simple double click. Double-click again to return to the previous effect mode.
Use with an external power source
The Lumonite DX6500 lamp part can also be used directly in 12 or 24V systems using a separate transformer. You can find the transformers here. In this way, the lamp can be controlled with a separate switch because the extremely advanced lighting part remembers the last used power mode even after the lamp is turned off!